In the days or weeks before you bring home a puppy, your household is probably filled with excitement, anticipation, and a healthy dose of anxiety. What will your new puppy be like? Will they be snuggly or independent? How many tricks are they going to learn?
You might also be wondering what kind of supplies you need, and what to add to your pre-puppy to-do list. To help you get ready, here's the list of puppy must-haves that every soon-to-be Dog Owner needs! From finding the right food bowl to calling in an experienced Puppy Sitter, these are the tips that will make the first few months much easier!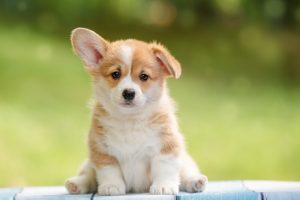 Supplies to buy before you bring home a puppy
#1: A harness and leash(es)
If you're adopting a very young pup, this might not seem like the most necessary purchase, yet. After all, you're going to carry that little furball home in your arms!
But, it's important whenever you travel with your new puppy to put them in a secure-fitting harness and leash to prevent them from escaping in the exciting transition to your new home. Depending on the age of your new puppy, they could wiggle their way out of your arms and scramble off quicker than you might expect. So, it's better to be on the safe side.
In addition to a standard leash for everyday use, an extra long leash can come in handy when you start working on recall training.
#2: Collar and tag
Until you're able to get your pupper microchipped at the vet, a collar and id tag are essential. If you don't have a name picked out yet, don't worry. Just make sure that your contact information is on the tag and then update it when you've settled on the perfect dog name.
#3: Car harness or travel crate
A dog car harness or car crate will keep your puppy safe during their first car ride home. This is about safety as well as comfort; some puppies get carsick from bouncing around in a moving vehicle. A car harness or crate will limit their movement and prevent them from developing negative associations with the car.
#4: Food and water bowls
There are many different kinds of food and water bowls on the market; it's enough to get overwhelmed! So, here are a few simple guidelines to narrow down your search:
Bowls with a non-slip bottom or a non-slip mat.

Make puppy life easier without having to worry about your pupper pushing and sliding their bowls all over the floor.
Stainless steel for easier clean-up.

Especially if you'll be feeding your dog wet or raw food, you want a food bowl that will lower the risk of bacteria growth.
Slow-feeding food bowls.

Some Dog Owners wait to see whether their dog inhales their food in seconds before investing in a slow-feeding bowl, but we suggest starting out with one from the start. Mealtimes are such a brilliant opportunity for mental stimulation, and the extra challenge of a slow-feeding bowl is even better.
#5: Puppy food, plus some extra puppy food!
Puppies don't eat much, but you'll still be surprised at how quickly the first few weeks whiz by. Just as you feel like you're getting the hang of this whole Dog Owner thing, you realise it's dinnertime and you're completely out of puppy food.
As for puppy food… Do you even need to ask? At Mad Paws Dinner Bowl, we have everything your growing pup needs and more. Suitable for all ages, our tailor made meals deliver everything your pup needs at every stage of their life.
Stock up early so that you don't have to think of it during the first few wild weeks of Puppy Ownership!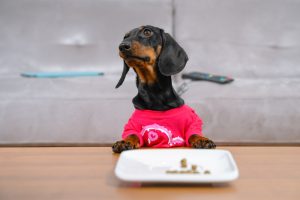 #6: A dog bed or crate
Crates have become a standard for puppy training because they offer a range of benefits. Crate training can help with potty training, keep your doggo safe while you're away, and give them a quiet place for some sleepy alone time.
Crates are certainly optional, but if you do choose to use one, best to get it before your new puppy gets into a routine at your home.
And, whether you opt for crate training or not, you can help your pup feel more comfortable by setting up their sleeping area with a doggy bed. Having a designated doggy bed will be an important way for you to help your dog sleep through the night.
If you're looking for a comfortable, durable and oh-so-stylish dog bed, we would look no further than Sash Dog Beds.
#7: Plenty of chew toys
One of the first things that overwhelms new Puppy Owners is the biting phase. It's amazing how quickly an adorable little ball of wrinkles can turn into a tornado of teeth.
Regular playtime during this phase is an absolute must, both for your puppy's health and wellness, and also to keep those chompers in check. You'll want at least two or three which are designed to ease teething discomfort. And to help with the more painful part of the teething phase for Owners, revisit our article on How to Stop a Puppy from Biting.
#8: Treats
Treats are the secret weapon of all new Puppy Owners. Not only will treats help you bond with your pup and win over their trust and confidence, but they'll also be a key component in the training process.
Think your puppy is too young to start learning your house rules? Not so!
Simple commands like "sit" and "lay down" can start as early as 8 weeks. And by the time your puppy is three to four months old, they can start potty training and learning more complex commands like "wait." During this process, treats are going to be a sure way to cut through the puppy energy so they stay focused.
You might also buy a clicker before you bring home a puppy so that your puppy can start associating the noise of the clicker with treats from day one. Clicker training is optional, but it can help to make puppy training more efficient.
#9: Puppy pads, poo bags, and plenty of cleaning supplies
You may be adopting a fully potty trained puppy, one that is too young to start, or a dog who is somewhere in the middle. Whatever the case may be, you'll want to anticipate the messiest part of Pet Ownership before you bring home a puppy.
Like puppy food, buy enough puppy pads and poo bags to last a few weeks so that you don't run out while you're still getting adjusted.
Cleaning up accidents in the house will require a special set of cleaning supplies, especially if you have carpet or rugs in the home. Don't wait to see if your puppy is potty trained before investing in the right cleaning supplies! You'll want to have them on hand and clean up any accidents as soon as they happen. This will prevent your pup from choosing an inside potty area that is separate from the potty pads.
#10: Gates or a puppy pen
Baby gates and sturdy puppy play pens will help keep your little one in a puppy-safe area when you can't focus your attention on them completely.
They're also a good tool to use if you're going to be introducing your puppy to another pet, such as a cat.
#11: Grooming supplies
Puppyhood is the ideal time to get your dog used to being groomed. Here are a few supplies to get you started:
Puppy shampoo

A non-slip mat for the bathtub

Nail clippers

A soft-bristled brush

A doggy toothbrush and toothpaste

Depending on your dog's breed, you might need more specialised tools such as combs for long fur, etc.
Having these supplies on hand will allow you to set up a regular grooming routine even before your pup has grown into their adult coat. It's much easier to get a pint-sized puppy used to taking baths and being brushed than a full-grown dog!
Other to-do list tasks to complete before you bring home a puppy
Now that you have a list of supplies, there are just a few more things that you can do to make the first few weeks with mini Fido easier!
Puppify your home.

Loose wires, shoes, plants, and pretty much anything that's at your puppy's eye level is fair game in their mind. So, keep your items, and your doggo, safe by doing a final walk through before you bring home a puppy.
Set up your first vet appointment.

Your first vet appointment will be pretty straight forward, and it will start your dog off on the right paw!
Sign up for a

reliable pet insurance plan

.

Check this off your to-do list before welcoming the little one home so that you can be stress-free from day one.
Find a Pet Sitter.

If you'll be working away from home during your puppy's first few days or weeks, make sure to book a friendly Pet Sitter to keep an eye on them.
You've bought the supplies and handled the logistics. It's time to bring home your puppy!
Congratulations, you're about to enjoy the life-changing whirlwind that is Puppy Ownership! Even if this isn't your first pupper, each new canine cutie is sure to bring new joys, heart-warming memories, and—let's face it—challenges!
But, now that you have your list of things to buy and do before you bring home a puppy, you're ready to welcome your new furry family member!